Team
Braintree
Agency partner: Noble People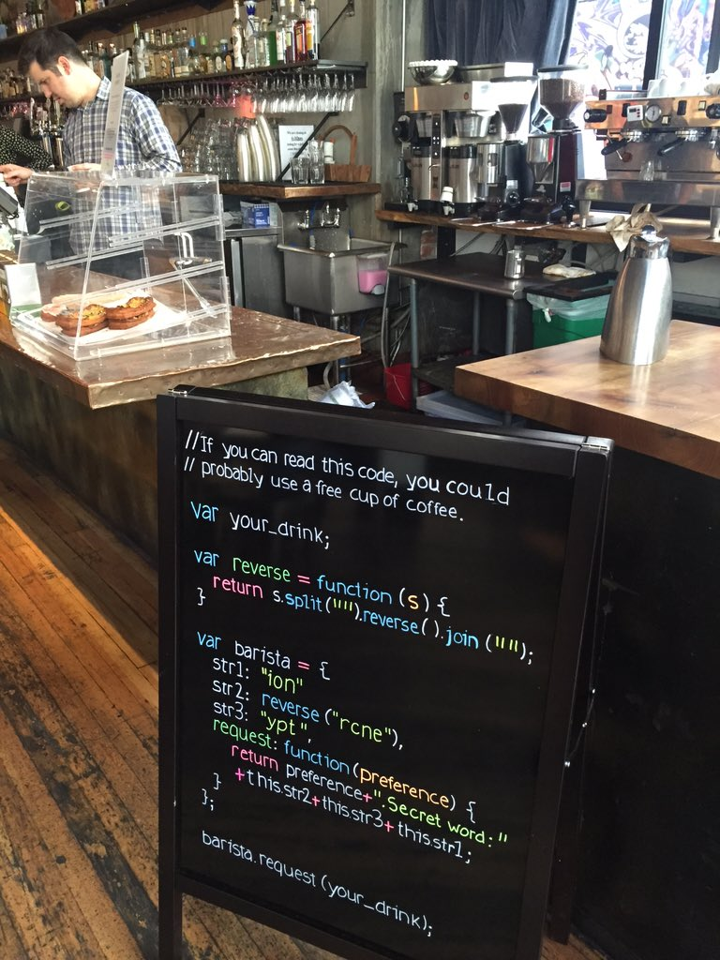 Overview
Code is a language that not everyone can read or speak. We wanted to recognize the developers who use it everyday and understand it best. And of course, get them to consider Braintree's platform as well.
Approach
We thanked developers in San Francisco, New York, and Chicago with a simple gesture of gratitude - if they could decode it. We partnered with local coffee shops, delis and bars to display easels with a block of code.
If developers could decipher the code, and told it to the cashier, they would get a free coffee or treat on us.
The campaign was teased through similar graphics on Twitter, and had paid support before and during the shop activations.
Content Examples
Example 1 (Twitter)
Example 2 (Twitter)
Example 3 (Twitter)
Paid Social Approach
Twitter ads reached developers in major metropolitan areas. These cities (NYC, San Francisco, and Chicago) included Braintree offices, as well as those of major enterprise customers.
On Facebook I requested and vetted over 6K Partner categories, whitelisting segments that matched the developer audience. This helped reach a higher quality audience there, but Twitter was still the more successful platform for this project due to its real-time nature.
We also reached out to local developer groups and companies.
Results
Between digital and onsite coordination, we could see the results occurring in real-time.
Hundreds of developers were reached per city campaign
The campaigns generated thousands of social media engagements and partner shop visits
Buzzfeed covered the campaign twice; early activations resulted in a 62% increase in brand awareness, and most significantly, a 92% increase in merchant sign-ups
Lessons
With each city activation, we iterated and improved nuances of the campaign, such as the locations, code syntax, design, and more.
One of the biggest learnings was more internal than external. Our own developers gave us feedback on how the language and design of our code snippets should be improved. The code syntax became more accurate. Colors were also adjusted to align with colors in common code tools. You can see this evolution from the example links.
We also made the instructions clearer on where and how developers could get the freebies.
Social images were better formatted for Twitter's thumbnail preview and mobile display.
For the first one or two cities, the targeting was too broad. We changed the ad structure, the city targeting to zip codes, and the targeting combinations so that the right developers were reached near each location.
The campaign gained a new title: #CodeAsCurrency, because our partner shops offered more than coffee. This also implied how code was currency for developers who could decipher the graphics.
Like #Codeology, Braintree ultimately decreased the level of activity around this concept. However, I believe the concept remains relevant. "Coffee" can instead be a digital offering such as a coffee gift card, free download, virtual event, or something else.