Team: VML
Overview
After completing a brand redesign, Tazo launched new product lines including iced tea concentrates.
A summer campaign had the objective of generating social media conversation around the enjoyment of the iced tea flavors, leading to product purchases.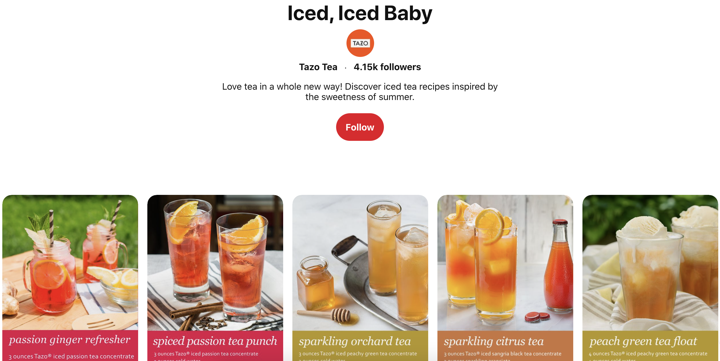 Content Approach
Through organic and paid content, we asked audiences a variety of questions, such as their favorite places to cool down or make a splash. In return for comments and submissions, we shared products and coupons.
The responses also inspired new creative assets - especially cinemagraphs, which were an emerging creative format at the time. They quickly became a major part of our overall creative approach for the campaign.
Content also included cross-promotion of iced tea recipes, hosted on both Tazo's website and Pinterest.
The website itself embedded Pinterest pins and Facebook posts, helping to amplify organic reach.
Pinterest's Recipe Pin format was used where possible to carry contextual information and optimize platform actions (e.g., pinning, website clicks).
Like the cinemagraphs, this content also sparked a feedback loop of user-generated content, and inspired additional recipe content.
Ads were promoted on Facebook and Pinterest, targeting summertime interests, related products and competitors, and seasonal moments.
Results
Tazo's digital campaign record was broken within the first day of launch
100K+ social media users reached, with high levels of commentary, sharing, and click-throughs
Local market social ad spend and coupons were tied back to purchases